Shopping Cart
Your Cart is Empty
There was an error with PayPal
Click here to try again
Thank you for your business!
You should be receiving an order confirmation from Paypal shortly.
Exit Shopping Cart
Costumes, Monsters and Other Delights
Returned from the Halloween show all pumped up and ready for a new season of Halloween all year long.  Halloween is not just a holiday, it's a life style.   Fun and games, dressing up or zombie up, it's all fun.  
Renfaire or LARP, Easter Bunny or Lady Liberty,  Mardi Gras or Day of the Dead, come on people COSTUME UP!  And PARTY!    
Come visit us at the Irvington Halloween Fair at East Washington Street and Ritter Ave.  You'll have to look for us, it is Halloween after all.  There will be vendors, food, fun and a costume parade.  
Saturday 10/27/2012 from 9AM till 6PM.  
We will be taking your picture with Zombies on a green screen, you can chose your background from a number of Indy or fantastic locations. 
Went to HorrorHound weekend, met Elvira and Sammy Terry.  A great weekend.  Have a lot of new Oddities to show you soon.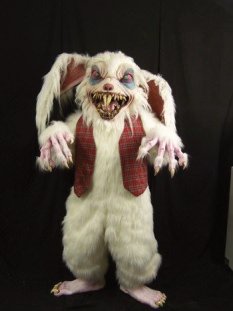 October 6th & 7th we will be at the Fishers RenFaire.  Look for our booth.  We will be doing Green Screen Photography for the RenFaire, for Knights and Ladys, Fairies and Folks, and for the Zombie Apocalypse.
We will also have Jewelry by Shannon; Woodbabies; and Other Delights!
October 27th we will be at the Irvington Halloween Fair with our Green Screen and Zombies, Skeletons and Monsters.  Oh my!
/